Bozeman Yellowstone International Airport (BZN) to Yellowstone Raft Company: Approximately 1 hr 27 min (87.4 mi) via I-90 E and US-89 S
  Bozeman Yellowstone International Airport (BZN) to the Corrals: Approximately 1 hr 49 min (94.7 mi) via I-90 E and US-89 S
  The town of Gardiner to the Corrals: Approximately 23 min (7.6 mi) via Jardine Rd 
Already Been Down the River?
Preserve your Montana memories and download your photos!
WRITE US A MESSAGE
During the summer, our offices are open from 8 a.m. to 8 p.m. In the off-season, the phones are answered from home any day of the week between 9 a.m. and 6 p.m. MST (please feel free to leave a message before or after these hours).
HOURS
Mon

8:00am-8:00pm
Tue

8:00am-8:00pm
Wed

8:00am-8:00pm
Thu

8:00am-8:00pm
Fri

8:00am-8:00pm
Sat

8:00am-8:00pm
Sun

8:00am-8:00pm
Office hours dependent on seasonality and weather.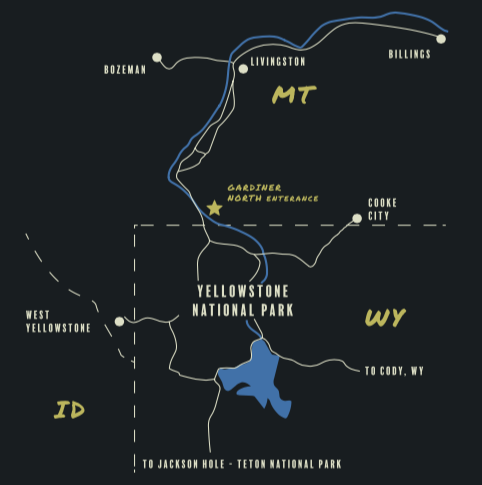 Water House
Beautiful 1,200 sq ft home, located at the North Entrance of Yellowstone Sleeps 6, 2BR, 1.5BA, Full Kitchen & a Deck looking over the Yellowstone River
Water House II
A beautiful accommodation for 4, overlooking the Yellowstone River! Sleeps 4, 2BR, 1BA, Views, Full Kitchen, Private River Access
Yellowstone Tipis
Tipi glamping, just 1 mile North of the Roosevelt Arch at the North entrance of Yellowstone National Park, and a 10-minute walk to the banks of the Yellowstone River, Yellowstone Tipis is perfectly private yet conveniently located.
Rocky Mtn RV Park and Cabins
Surrounded by spectacular mountains, with the Yellowstone and Gardiner Rivers flowing into the canyon below the park, the views from Rocky Mountain RV Park & Lodging are unparalleled!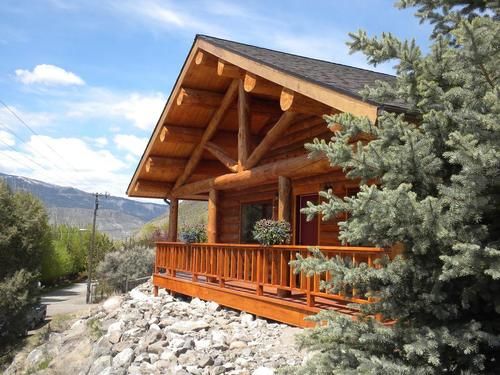 The Roosevelt Hotel & Cabins
Offering a direct view, 80% of the hotel rooms are views overlooking the world-famous "Yellowstone National Park" or Yellowstone River. Each room offers identical amenities with only the view to select. Whether for a business retreat, family vacation, or romantic getaway, all accommodations invite a sense of relaxation overlooking one of the most popular National Park's In America.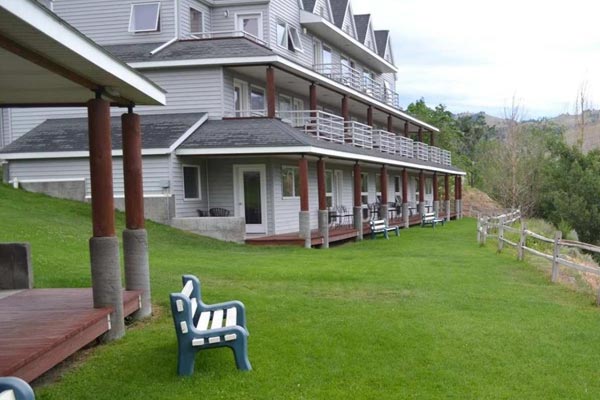 Absaroka Lodge
Strategically located directly on the banks of the Yellowstone River.... right at the North Entrance of Yellowstone National Park, two blocks from Roosevelt Arch. Absaroka Lodge is located in the heart of Gardiner, Montana - a small town in picturesque Paradise Valley that boasts plenty of things to do as well as dining options for your visit.
Yellowstone Big Rock Inn
Located right in the middle of Gardiner, MT, and approx. 1 mile from Yellowstone's North Entrance. Within 1 block there is shopping, a bar/lounge & several very good restaurants for you to choose from. You will be able to sit on your front patio and enjoy the beautiful mountain views. Come stay with us and enjoy our amazing views of Electric Peak and take in the wonder that is Yellowstone National Park!
Reedfly Farm
OUR LODGE, CABINS & SUITES ARE SITUATED RIGHT ON THE BANKS OF THE MAGNIFICENT YELLOWSTONE RIVER. EMIGRANT PEAK RISES UP AND BASKS IN ALL THE GLORY OF YOUR GAZE. WALK OUTSIDE YOUR DOOR AND CATCH THE TROUT OF YOUR DREAMS. HIKE IN YELLOWSTONE NATIONAL PARK. DIP IN CHICO HOT SPRINGS. DRINK LIKE A COWBOY AT THE OLD SALOON. LUXURIATE IN YOUR SURROUNDINGS. AND CHOOSE YOUR OWN FANTASTIC ADVENTURE.
Erik's Ranch
Erik's Ranch is a perfect getaway for outdoor enthusiasts, families, and everyone in between. Nestled among the snow-capped Absaroka mountains, open the front door and enjoy endless miles of hiking and trail rides with your friends and family. Take a day trip to Yellowstone National Park, swim at nearby Chico or Yellowstone Hot Springs, revel in the unique flora and fauna at Gallatin National Forest, or just an hour away from Downhill skiing at Bridger Bowl. Rates include lodging, hiking tours, and some of the most amazing views you will ever see. *Guests at Erik's Ranch receive 15% off of river trips. Please contact Ranch Concierge to book your trip.
Paradise Gateway Bed & Breakfast
Paradise Gateway offers two green guest queen rooms and two private luxury vacation homes, all nestled in the majestic Absaroka Mountains near the town of Emigrant, Montana, just minutes from Yellowstone National Park and a few feet from the Yellowstone River.
Yellowstone Valley Lodge
Contemporary accommodations meet the rustic spirit of Yellowstone at our cozy riverside lodge in Livingston, Montana, featuring incredible views of the Absaroka Mountain Range and amazing opportunities for outdoor activities, from rafting to horseback riding. Whether you're here for solitude and relaxation, a one-of-a-kind fly fishing experience, or just a night of sleep on a longer adventure, your stay at Yellowstone Valley Lodge & Grill is sure to be a memorable one.
Yellowstone's Edge RV Park
Yellowstone's Edge RV Park is located just 35 miles from the North Entrance to Yellowstone National Park. We pride ourselves on having perfect 10 rated shower house facilities by the Trailer Life camping directory. Our park offers long pull-thru and back-in RV sites with full hookups and 20/30/50/ amp service, as well as a cabin site. We have filled our store with a treasure chest full of Montana Made artwork, jewelry, and gifts. For your convenience, we have also stocked a pantry full of groceries, beer, wine, and a fine selection of locally made ice cream. *Guests at Erik's Ranch receive 15% off of river trips. Please contact Ranch Concierge to book your trip.